Biltmore Forest luxury homes are the epitome of stylish elegance, the apex for which all others strive. And it's no wonder since the stunning Biltmore Estate laid the foundation for this exclusive neighborhood in the 1920s, setting a Gilded Age standard of luxury that has endured to the present day. Biltmore Forest truly echoes the refined charm of this bygone era.
But even the most stylish luxury home has room for an upgrade, especially an older home that was built before more luxuriant modern-day conveniences were available. Here are some high-end projects that can add even more opulence and grandeur to your Biltmore Forest luxury home.

1. BUILD THE ULTIMATE WINE CELLAR
While it's certainly not a modern-day idea, today's wine cellars run the gamut from elaborate replicas of historic European cellars to sleek multi-level wine libraries. Of course, the primary function of a wine cellar is to protect your favorite vintage with high-tech smart technology that controls temperature, humidity, lighting, and access. But many wine cellars now act as a home's focal point for entertaining guests. They include adjacent, well-designed tasting rooms that elevate the experience to delight oenophiles and their guests alike. If you want to show off your collection, you can even incorporate unique display options that transform your wine cellar into a custom gallery. Want to add some intrigue to your wine-drinking experience? How about designing a secret wine cellar with hidden access behind the library wall? Or what about adding a speakeasy-type entry through a trapdoor? From quirky to elegant, you can customize your wine cellar to match your home's (and your own) personality.

2. ADD A LUXURY HOME SPA
Creating your own relaxing sanctuary within the safety, privacy, and comfort of your own home is the latest trend in wellness. A home spa is a place to find solace and peace with calming features customized to the homeowner's personal preference. Today's luxury home spas feature a range of options that rival the finest hotels and spa retreats:
Sensory showers. A sensory shower borrows inspiration from nature, awakening the senses through elaborate combinations of rain, mist, lighting, and fragrance. This lush shower experience can give a welcome respite from the hustle and bustle of the day by bringing natural healing elements into your bathroom or spa.
Luxury indoor and outdoor saunas. Whether you opt for traditional wooden, Finnish, or infrared, saunas eliminate toxins and create a relaxing strategy to unwind and de-stress.
Spa pool enhancements. Spa pools can be a great addition to the pool experience and can be created with well-chosen details that complement existing indoor or outdoor pool designs. Additional features like waterfalls and fountains can also elevate an existing pool and transform your backyard into a tropical oasis.
Spas not only increase your home's beauty and value, but they can also provide a private relaxation experience anytime to help you destress, feel better, and live healthier, happier lives. They also have a relatively small footprint, meaning they can be incorporated into smaller spaces than some other home upgrades while still adding value and luxury to your Biltmore Forest real estate.

3. EXPAND YOUR OUTDOOR ENTERTAINING OPTIONS
A chef-worthy kitchen or elegant, inviting outdoor living room expands your home's living space while putting you and your guests at ease in a casual, welcoming environment. And with most Biltmore Forest luxury homes nestled in lush woods and old-growth forests, homeowners get the added benefit of spending more time enjoying the natural wonder that surrounds them.

A KITCHEN WORTHY OF A CELEBRITY CHEF
A well-appointed outdoor kitchen can include everything your indoor kitchen has and more, including professional-grade custom appliances and durable surfaces like stainless steel, granite, quartz, and stacked stone. Outdoor kitchens offer even more flexibility and flair than their indoor counterparts when you add custom stone pizza ovens, specialized flat-top grills, smokers, or stylish wine and beverage chillers. You can also add warmth and charm to your outdoor space with comfortable seating, atmospheric lighting, and fire and water features. You are really only limited by your imagination. A well-designed outdoor kitchen will draw you and your guests outside and make every meal feel like a special occasion.

GET COMFORTABLE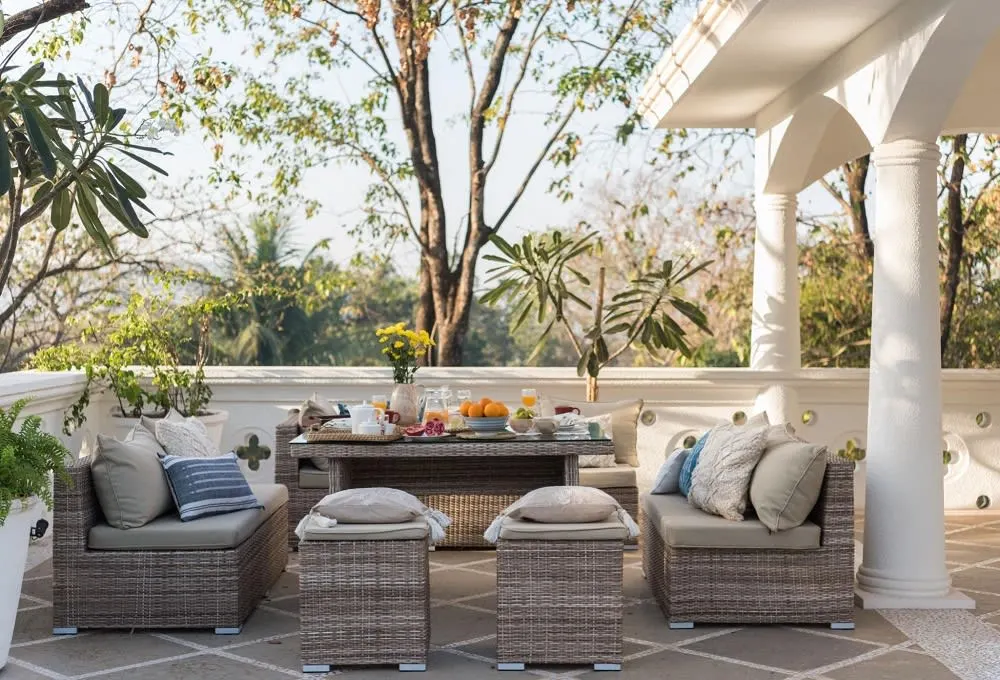 Whether you are relaxing poolside or simply enjoying the quiet solitude of the woods surrounding your Biltmore Forest Luxury home, a well-designed outdoor space provides the relaxed beauty of the outdoors with the interior comforts inside your home. An outdoor dining room is perfect for alfresco entertaining and relaxing while being protected from the blazing sun of an Asheville summer. Speaking of keeping cool, consider converting your pool into a tropical retreat by adding a charming open-air bungalow, modern bathhouse, or Italianate pillared loggia.

4. KEEP FIT WITH A CUSTOM HOME GYM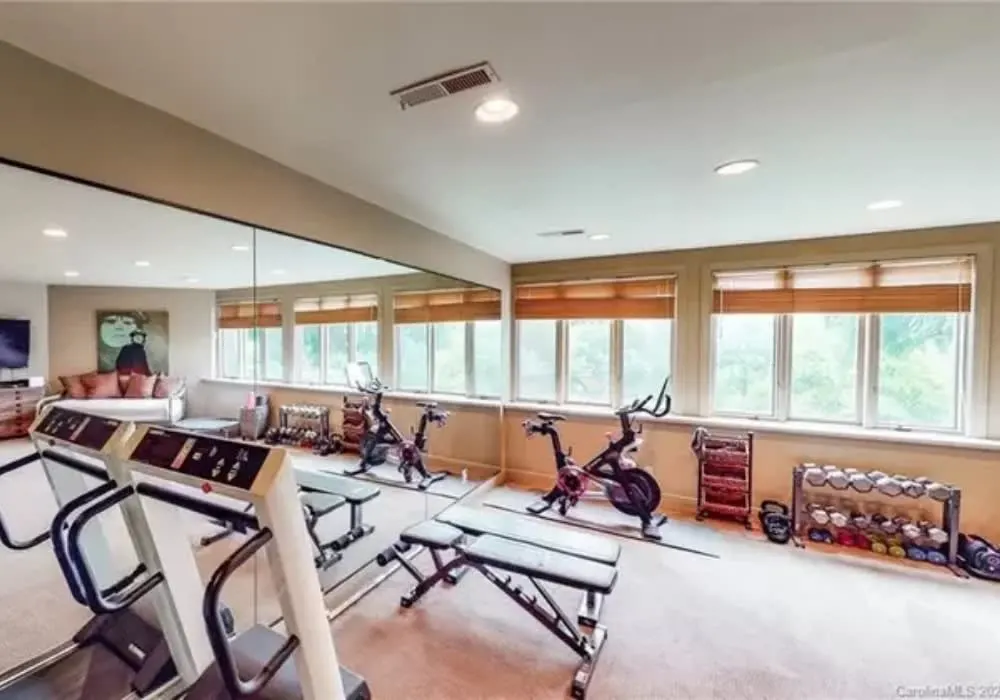 Creating your own private workout space can really help you stay on track with your fitness goals. But no matter how convenient a home gym is, you still need to create a space where you will enjoy spending time and be motivated to work out. If you are fortunate to have the space to add a custom gym, consider large windows with scenic views and avoid placement in little-used or cramped spaces. In addition to abundant light, you'll want to build your home gym near a bathroom or, better yet, your own in-home spa! Don't cut corners on equipment either. Research the best options for your personal fitness goals and purchase functional, well-designed equipment that is easy to use. The latest interactive fitness technology is a must, so be sure to include these helpful, unobtrusive virtual "trainers" into your plan.

LOOKING FOR BILTMORE FOREST LUXURY HOMES?
These four luxurious additions are sure to not only enhance your Biltmore Forest real estate investment but increase the enjoyment you get from your home. When you're ready to consider a luxury upgrade to your existing home or to look at new Biltmore Forest luxury homes, reach out to Panashe.