Asheville, North Carolina is located between the Appalachian and Blue Ridge Mountains. It is surrounded by lush landscapes and has many opportunities for outdoor recreation. Luckily the weather is mild enough that you can be out enjoying nature all year long. There are several wineries nearby, including the famous Biltmore. Asheville is a lively city with an active music scene.
Downtown has constant entertainment with the various street performers. You can watch them while you enjoy a beer from one of the 30 local breweries. If you're exploring the world of downtown Asheville real estate, you'll want to check out the area's best restaurants. There have been quite a few James Beard Foundation Awards given to chefs and restaurants in Asheville. A few recent recipients and semifinalists include:
Ashleigh Shanti, Benne on Eagle, named National Rising Chef Star of the Year (2020)
Katie Button, Cúrate, named Best Chef Southeast (2020), Outstanding Hospitality nomination (2022)
Cleophus Hethington, Benne on Eagle, Emerging Chef nomination (2022)
Meherwan Irani, Chani Pani, Outstanding Restaurant nomination (2022)
Meherwan Irani, Nani's Piri Piri Chicken, Best New Restaurant nomination (2022)
Susannah Gebhart, Old World Levain (OWL) Bakery, semifinalist for Outstanding Baker (2022)
Read on to learn more about some of Asheville's best restaurants!
CHESTNUT
Local's favorite restaurant for special occasions is Chestnut. It's an upscale dining experience with crafted cocktails. Everything, even the sorbet and ice cream, is handmade in the restaurant. Their produce and meat are locally-sourced, and they pickle their own vegetables and smoke their own meat. It's probably why they have some of the best charcuterie around!
The handmade lobster bisque is popular, as well as the Gaelic mussels. For a fabulous Southern dish, try the Crow's Own Shrimp & Grits with bacon, cherry tomatoes, serrano peppers, and peppercorn cream sauce. Pair it with the Magneto Avenue cocktail made with vanilla bean rum, coconut elderflower cordial, and a bit of orange, lime, and fancy whip. The best part of owning Downtown Asheville real estate is you can enjoy one of Chestnut's famous cocktails anytime.
CHAI PANI
You'll find some of the best Indian food in the Carolinas at Chai Pani. They have been nominated for the James Beard Award four times. Chef Meherwan Irani specializes in Indian street food. The "chaat" is a brightly flavored street snack. Try the green mango chaat tossed with peanuts, golden raisins, corn poha, chutney, lime, and curry leaves.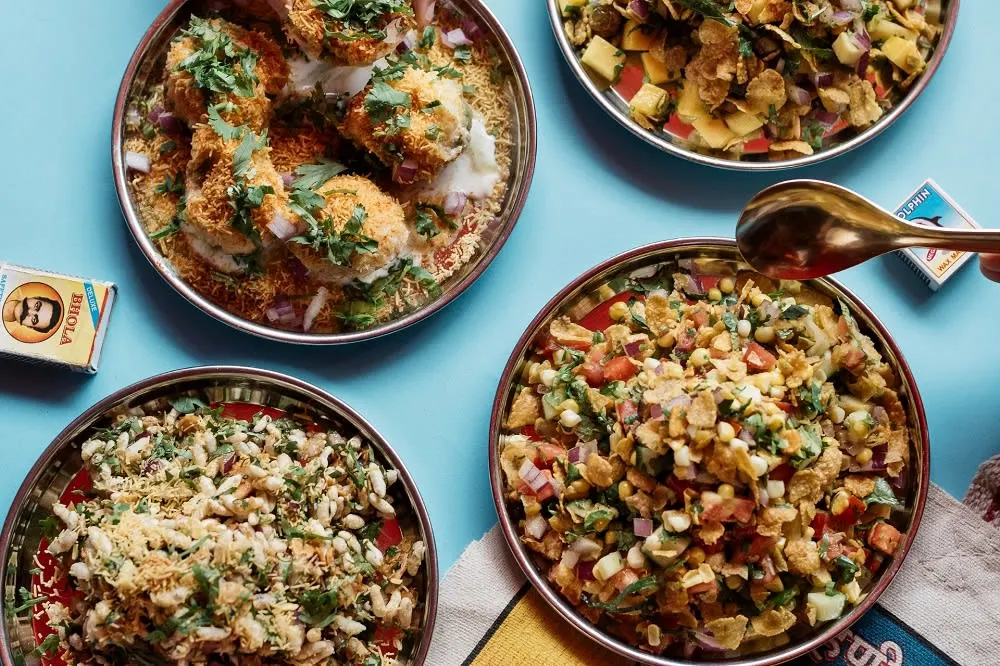 Photo courtesy of Chai Pani
The "thalis" is a traditional family meal and a perfect dinner solution when you bring the family down to look at North Asheville homes for sale. The butter chicken thali is marinated in a tomato cream sauce. It comes with enough basmati rice, masala slaw, daal, raita, and papadums to serve the family. For a simple and fabulous dessert, go with the kheer, a rice pudding with cardamom, cashews, almonds, and raisins.
LIMONES
Chef Hugo Ramirez infuses Mexico City's native dishes with his French-inspired California training to develop innovating Mexican cuisine. His dishes are often inspired by the fresh herbs or produce he finds locally. Chef Ramirez trained under some of the best San Francisco chefs, but he is happy to be in downtown Asheville. To stay in touch with the native Mexican dishes, he travels there at least once a year.
The atmosphere of Limones reflects his family's love for their homeland. Traditional pans used to make tortillas hang on the walls with colorful art. Some of the local favorites on the menu are the Lobster Nachos and the ceviche. There are always vegetarian options available. His menu changes a few times a month, so you will always find something new to try. It is a good thing you will be living nearby in Downtown Asheville real estate.
UKIAH JAPANESE SMOKEHOUSE
Chef Michael Lewis has a passion for Japanese street food and for American BBQ. Two things that you wouldn't think would go together, yet he created a wonderful menu reflecting a balanced fusion of the two. You will find grilled wagyu ribeye and crispy baby back ribs on his menu, along with raw salmon with wasabi soy broth and scallions.
The spicy pork BBQ ramen is a wonderful mix of flavors that hits all the right notes. For dessert, try the coconut cardamom mochi with vanilla ice cream and caramel. Ukiah has indoor and outdoor seating available. The ambiance is cozy in natural wood and deep blue. It is a good place to take a break from looking at North Asheville homes for sale.
NINE MILE
Nine Mile is a Caribbean-inspired restaurant where "people and food come together." Vegetarian-friendly, Nine Mile features a laid-back dining experience with exceptionally creative menu items. Try the Meshach — grilled hickory molasses rubbed chicken or jerk tofu with sautéed cremini mushrooms, bell peppers, and grape tomatoes in a white wine cream sauce tossed with cavatappi pasta & green onions. Or a vegan option, the Back-A-Yard Bowl with grilled Jerk chicken, tilapia, Beyond Meat vegan brats, or tofu with Basmati rice, Caribbean black beans, grilled zucchini, fried plantains, roasted jalapeño & pineapple salsa, with a Caribbean chimichurri sauce.
If your mouth is watering already, make sure to visit for dinner Monday through Sunday between 4:00 and 9:00 p.m. Nine Mile does not take reservations, so get there early to grab a table! Their signature sauces are also available for purchase.
ALL DAY DARLING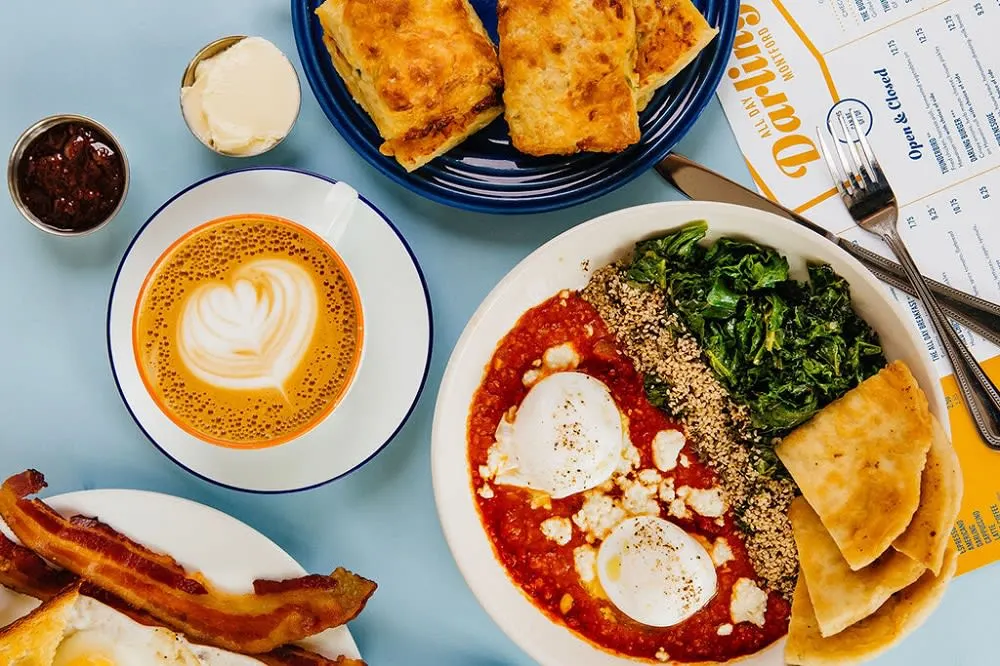 Photo courtesy of All Day Darling
Open every day from 7:00 a.m. to 8:00 p.m., All Day Darling serves an all day menu of market fresh foods. They specialize in baked goods, hearty salads, bowls, toasts, and seasonal creations to curb your every craving. If you're looking for delicious catering options, All Day Darling does that, too!
Wake up with a large portion of Shakshuka with two poached eggs, greens, feta, and spicy tomato on a flatbread or choose something a bit more traditional, like The Standard — fried egg, cheddar, herb mayo on a bagel, roll or a biscuit with your choice of bacon, ham, sausage, or avocado. Lunch options feature hearty grain bowls and salads with a la carte options and there's a perfect menu just for the kids. Don't forget about dessert — locals love their vegan ice cream options and Darling Drink creations!
CÚRATE
Enjoy some authentic Spanish cuisine at Cúrate. Chef Katie Button created a menu that celebrates the lively tapas culture of Spain. It also reflects her belief that sharing good food and wine with family and friends has curative effects, hence the name Cúrate. The all-Spanish wine list earned recognition by Wine Enthusiast Magazine.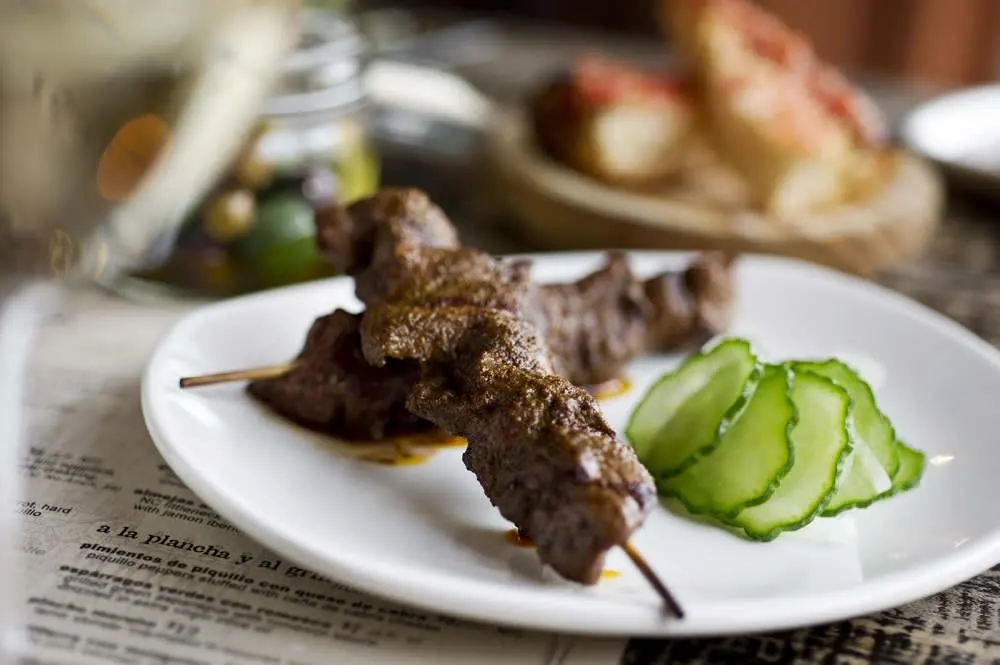 Photo courtesy of Cúrate
Some of the favorites are the pincho moruno lamb skewers marinated in Moorish spices. The morcilla casera, which is house-made sausage with cipollini onions, goat cheese, and toasted pine nuts, is also a hit. Pair it with fried eggplant drizzled in honey or a salad of endive with Spanish blue cheese, candied walnuts, pomegranate seeds, and champagne vinaigrette.
HUNGRY FOR DOWNTOWN ASHEVILLE REAL ESTATE?
The team at Panashe is happy to help you discover Downtown Asheville real estate. They are relocation experts experienced with buying and selling residential property and investment real estate. Reach out to Tracy today to learn more!
*Header Image courtesy of Early Girl Eatery